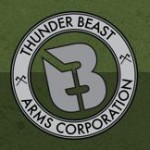 Tactical Ops Outdoors is proud to be working with Thunder Beast Arms as our preferred suppressor company.
When it comes to strategic and steady growth in the suppressor industry, Thunder Beast Arms leads the way. The reason for this is, their passion for unmatched accuracy, light weight design, and exceptional customer service. Quality and integrity goes into everything they build. Whether you are shooting competively, hunting, or otherwise we all know everything has to be just right when it's time to pull the trigger. Which is why a suppressor has to be much more than just a noise dampening device.
With Thunder Beast Arms you get the complete package. Thunder Beast Arms knows the shooting sports, which is why you need to know Thunder Beast Arms. Follow us via our social media for more with suppressors from Thunder Beast Arms.